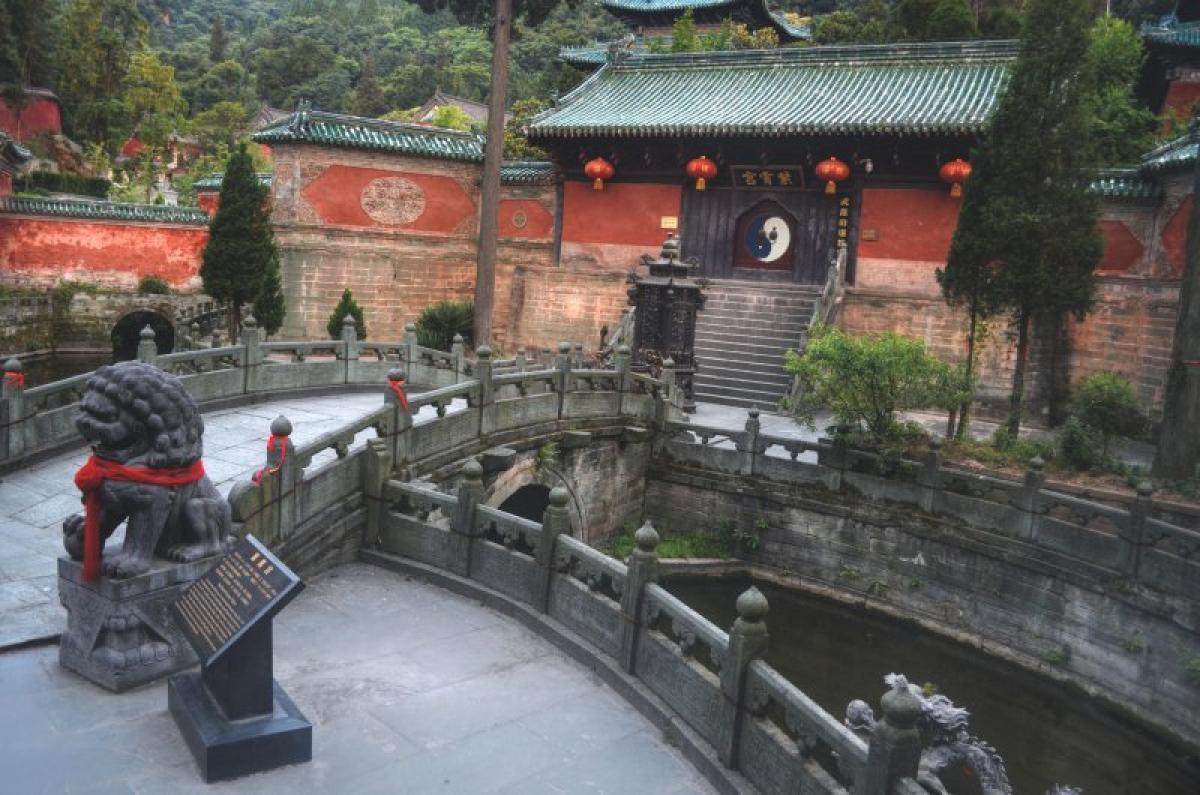 Wudangshan, Hubei
Eventually, 5 hours later, I got to Wudangshan. I embarked from the train and began to walk away, and a guy was hoping I'd jump in his minivan for 10 kuai. No way, I told him, I can go on the public bus for 1 kuai. I was laughing to myself that I was bickering over less than a dollar, but whatever, sometimes it's just a mood. Then I finally got into the minibus which was definitely the better option. He took me nearby the hostel. I stayed there for one night and went for a walk around the little village. Since wudangshan itselt is a scenic area they charge tickets and it's a completely different atmosphere than staying at the base in the hostels. So I woke up in the morning and bought a few things. I went to the Yewu palace which is actually in the town itself and I wanted to see the whole thing. I had to buy a few things anyway so it seemed like a good opportunity to go to the temple as well. It was amazing and there were any people playing taichi in the front pavililon. I had wandered into this area the night before just by chance when it was dark. This same pavilion seems to draw people to hang out and play during all hours of the day and night.
I eventually wandered over to the ticket office for Wudangshan which was a 15 minute walk from the hostel. I tried to get a discount, as the full ticket price is 150 plus another 100 for the bus that goes around the mountain and is a mandatory cost. So totally, it's a 250 kuai ticket, which is roughly 40 dollars . I eventually buckled and paid in full and got on the bus. I had minimal stuff with me and had planned on staying on the mountain for two days. The mountain is very convenient with a public bus that goes around the mountain every 20 minutes or so. It's so convenient to go to all of the various stops along the way.  The first leg of the trip was mostly scenic areas, and Taizipo, which was the place where the Emperor's son had become a Taoist and given up his heritage.  I wander through the temples slowly, trying to find hidden parts or meanings and taking photographs. This particular temple had some nice tea gardens and other trails meandering around. Wudangshan and other Daoist mountains are known for the hidden natural aspects. The complex is very interesting. Afterwards, I took the bus up to the next stop. There was a macaque theatre at the end of the walkway following a river/lake. There were many rope ladders for their enjoyment. I walked through to the end, through the area with the small cave and seat (another thing Daoist mountains are known for), and the macaques came out. The big male started to chase me so I ran away scared. They really like to bother the visitors for food but likely will not bite. I felt intimidated. here was a nice walk through a park. I really have missed walking in nature all of these years in Beijing. It's been really awful living in a dense city environment. I haven't enjoyed it at all. Walking and meandering through the rivers and lakes was very enjoyable. There was a small Chinese medicine clinic. I got into conversation with some of the students there. They told me they would spend their whole life there, and get married and have children. They were studying the medicine of the mountain. We sat in a room with taichi swords hanging on the wall and nice stone sculptures. They gave me some of the local green tea to drink. The school was located in the middle of a lotus pond, which were mostly in bloom, and two swans were swimming to their small house built in the center. There were mushrooms and herbs drying on the porch, and several students hanging out reading together. The master was gone for the day, unfortunately. I made my way back to the bus stop and waited to go to the purple heaven palace, which is the local nunnery and temple. After a short ride and some rest, I got out of the bus right at the entrance to the temple. The complex is very colorful, with a red exterior and turquoise rooftops set in the mountains with a backdrop of trees. I climbed up into the temple complex and greeted the protector guardians. Then I headed to the main temple. There were many ladies wearing the traditional Daoist robes situated in the front of each temple, to act as the guardians. I made my way through each of the temples taking photos and doing the customary bowing to the deities. I found out they have a regular chanting service at 5:00pm and had finished exploring in time to attend. Afterwards, I sat in the shop near the main pavilion and spoke with the shopkeepers for over an hour waiting for the taiji classes to begin. First, the lady explained to me more about the area and the monks, schedules, teachers, etc. Then we got into a conversation about marriage in USA, which is a common topic that comes up over and over again. People want to know if I'm married, and when I tell them I'm not they think I'm a little bit odd, and no children. It's such a traditional part of their lives that it seems really strange. I think they feel sorry for me. I feel sorry for myself in this environment as well, although back in the US it wouldn't even matter. Half of all adults are single, and half are divorced, so it really isn't as important to Americans who are becoming independent financially as gender discrimination becomes less common. I tell them I enjoy my independent lifestyle without a husband or children, and that it's a disadvantage to women to be married, and puts more pressure to raise the family and take care of the children, clean up everything, cook everything, as well as hold a job. The emotional labor of caring for others is largely put on the women in the family, and it's a lot of work and problems to take on. I have never been attracted to a family lifestyle, and would rather travel and explore the world. I would feel very limited supporting a family again, afterall, I supported my last relationship financially, emotionally, mentally, and felt like I lived with a complete slob who rarely cooked. It was a huge burden that I was happy to be free from. The financial matters in the relationship are so important, and I spent most of the money I had on our relationship and our various past times together. It was a huge drain on me for which I was not fully reciprocated. I think most people in China get married and then what do they do if things don't work out? They suffer? I don't think a Chinese woman would even put herself in a similar situation of supporting their partner.  
So that's the mercy of the purple heaven temple here on Wudangshan. It's a nunnery. I eventually was practicing taiji for over an hour with the nuns. It was beautiful and peaceful. I learned a lot of moves and more about their lifestyle being with them for that hour. It's a very nice moving meditation practice. My shoulder really benefitted from the practice, and I wondered why I didn't practice more often? Some of the movements are so subtle and bring a lot of rotation to some of the joints that I normally wouldn't encounter during a normal gym workout. I worked in the flow with the other ladies. The several months of training that I had been through with a private instructor came back to me and I felt better about my practice. I remembered all of the moves. It's more of a performance art or healing arts practice like a meditation to me than a martial art. The forms are interesting to practice and learn. Studying with those ladies for a few hours reinvigorated my practice. Their dark blue uniforms and black and white shoes seemed to resonate with the yin style of the Wudang form. It's very slow and methodical. The next morning, I woke up at 5:30am for the 6:00am chanting practice. It's sweet to hear the nuns chanting in the morning. The temple looked so nice. Then, I  went back to bed unable to contemplate going hiking so early. I went later to Nanyan, another part of the mountain with several caves. It was Zhenwu's birthplace, and also the place where he left his body. I walked around and considered walking to the hidden monestary several hours away, which is supposed to be secluded, but they are now developing the area so anyone can visit there later. The development of the trails and signs really helps to find one's way around and I never felt lost in the complex, even though it is quite complicated.
I walked to the cliff face where there are multiple caves dug out into the side of the sheer cliff. The meditation on the height alone is a confrontation with death. It's a beautiful place to consider sitting for any amount of time. I stayed there for a short while and had some snacks. It's a really nice view of the valley below and several other adjacent buildings. It was quite far off of the tourist trail. I was lucky that I gave myself three full days and two nights to explore the complex. After walking the loop, I headed back to the purple heaven palace, and tried to walk through a path, that ended up going through some guys garden and then back down to the road. I was going to simply walk the road back when I discovered a small path going up the trail to a small temple off the road. I decided to check it out since I was early getting back. As I was walking up the stairs to get there, a group of school children disembarked the bus that was going by. I thought, oh great, they are getting off the bus because they saw me and wanted to talk to a foreigner, and as I was walking they slowly caught up to me. We approached the temple together in a group. It was a group of 30 children, and as we got to the temple a small elderly monk came out. I sat down in a chair, and all of the children and four adult guides all crammed into the crowded space. There was a cave temple being caretaken by the elderly man. The man explained that the wooden chairs could be turned sideways and all the children could sit down. Then he sat down in a huge chair like throne below the cave. The children were between 8 and 11 years old. They all asked him questions and the guides tried to organize them to talk to the old monk. Then the monk gave everyone a small necklace. They all took pictures together. I had shown up at an interesting time. Afterwards, the children left and I was there with another lady. He gave us a melon and asked us to sit down and chat. He asked me where I was from and we chatted for a little bit.
Eventually I descended the mountain down to the path that went through the forest to the purple heaven palace which was just below the cave. I walked through the gardens and through the housing and dining area. I stopped to have dinner in the temple. They have a regular breakfast, lunch, and dinner schedule that the visitors can also enjoy for a small fee. Chinese students are welcome to stay in their dormitory, but unfortunately the foreigners have to stay outside. I was welcome to stay in an unofficial hostel like house that a lady runs above her restaurant. Her kids have left home and she was renting out their rooms to the foreigners for around 80 kuai a night. It was a nice convenient place to stay, even though the place was run down and smelled like mold it was a nice alternative to the hotels up the street away from the temple, or the ones nearby which were 200-300 kaui, which was out of my price range. I spoke with several other traveling students who were staying in the dormitory. We chatted about our lives, where we were living and which schools they were going to. It was nice to eat the squash, rice, and other vegetables. The temple food is very hearty and humble food. I ate their foods several times and thought it was tasty. I did taiji again that night with the ladies and this time was better, with different forms. Although, some visitors had joined who were really stupid people and they had obviously never tried taiji before, so their movements were chaotic and they had no idea what they were doing. It's very distracting when that happens. I felt like I had made a lot of improvement with only a few hours of practice.
The next day I planned on hiking to the top of the mountain, Jindai, the golden summit of the mountain. Unfortunately it was raining a little bit. I left in the morning to hike the final (and most important part of the mountain. It was a nice day to do it in comparison to the hot humid days when the sun was out. The top of the mountain had older deities and buildings. There was a library and calligraphy hall where the monks held their evening class. There were several temples dedicated to Zhenwu and also to his parents and guardians. They were all covered in a thick soot of incense from the offerings. Some of the deities had golden robes or yellow robes which intensified the darkened look of the altars. After touring the main parts of the temple and giving my respects to all of the deities then I sat in the balcony of the scriptural temple and waited for the class to start. It had started pouring down rain and I had to wait anyway. I bought a few rice snacks homemade from the ladies at the temple. I sat and waited. Eventually, the class started. The monks all arrived to chant the evening prayers and I sat in the back. I took a few photos. I enjoyed the singing of one of the vistors the most. Oftentimes, I cannot understand the melody of the chanting, but this particular visitor had the entire thing memorized and was really belting out the melody. I had so much more appreciation for the music after I heard him singing. There were some special offerings being made, which later I identified as for his family. Oftentimes people come to the temple to burn paper in memory of their parents or ancestors. He had a huge bag of the golden packets of paper that I saw him tending to after the ceremony, still singing afterwards.
 I hurried out of the temple and hurried toward the cable car, but I didn't know where it was. I wanted to buy a ticket for the cable car even though I was 5 kuai short. I asked one of the ladies in the shop where the ticket office was, and I pointed to a certain direction. She said I could get down either way and there were two ways to go. I had no idea, but that lady told me to go down a way that there was no cable car and there was only a footpath. I got screwed, but it saved me 75 kuai, which I actually really needed on my budget.  My knees ached and hurt from hiking. Even though I worked out regularly, after the third day in a row of hiking it does take a toll on the knees. I also hiked Huashan only a day before coming to Wudangshan, so I felt like I was really putting stress after the fifth day of this kind of steep hiking up and down. It was fine though. I wanted to do more hiking and training anyway.
I got back just before 6pm and the last train down to the bottom of the mountain. I made it back to the hostel and my roommate was a really interesting lady, a Mexican national who was living in Oahu studying Asian performance arts in hopes of moving back to Mexico to become a professor. She was really a beautiful person. She came to study for a few weeks in China for Taiji and then would go to Japan to study Japanese dance. She was lamenting about her graduate student schedule in the US and her performance practice. She seemed dead tired all of the time from what she related. I admit that I at that point began to worry about myself in the phD program at University of Florida, and being too busy with work to enjoy life. I fear that very much because I love my independence and ability to explore. I admit I feel like I'm going into a career that's not exactly right for me and the office part of it is not suitable for me. I need balance in the form of travel and hiking. I just don't see it working out. China is so much more exciting to me for research and travel. I just need to get back to the US for social and health reasons. I'm so tired of it even though the career has a lot of potential for me to be personally fulfilled on a lot of levels that really suit who I am.