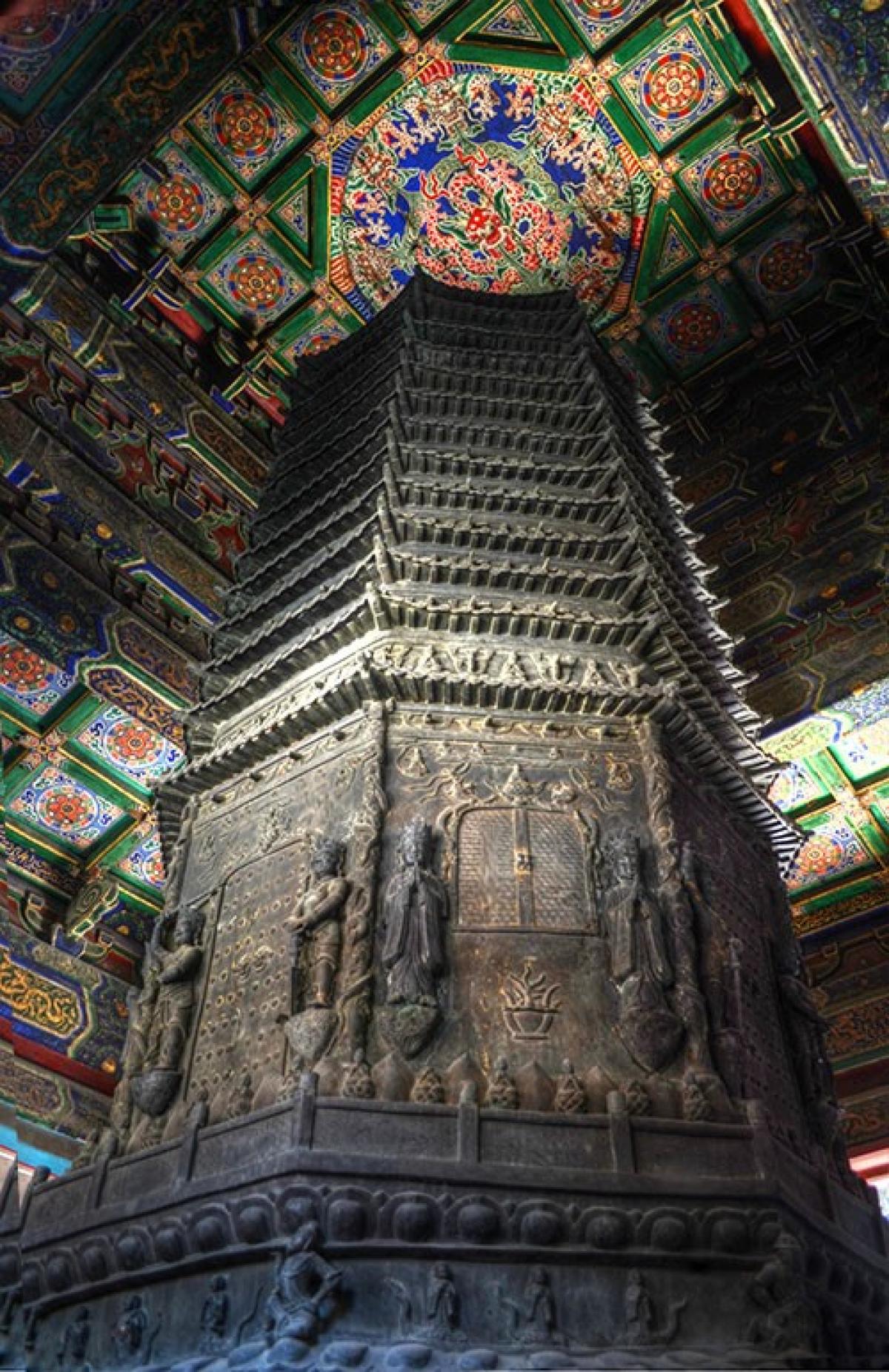 Longevity Temple (万寿寺)
I am like a sensitive bat. Moving abroad to China has been a very receptive time for me, and I frequently feel isolated as if I live in a cave. In an attempt to see through the darkness, I go alone to the longevity temple. Longevity in China is depicted by the character (寿) shòu, often times found decorating porcelain with five flying red bats surrounding it.   The flying red bats appear flying the clouds on the ceiling of the entrance hall of the building. There's nothing to say when by oneself, and everything to absorb and take in. The pagoda in the final room draws me in. It's a five feet high tower, made ​​of copper, lead, arsenic, zinc, silver, gold and other metals alloyed together pointing upwards in the encompassing, protective rainbow painted hollow of the temple. The small pagoda room is about the overall square footage of my current living quarters.
My situation living on a Chinese college campus has been uniquely isolating, in that the campus dormitory allowed me to have my own room.  I would outright refuse to stay on campus if I had to share a room, and luckily the campus administration accommodated my request. Conversely, a Chinese master's student on that same campus would room with 6-8 other girls or boys in a room stacked with bunk beds. The lessons in humility in what a Chinese student endures are very real, what to speak of the crowded subway, traffic, spitting, cutting in line overall, in the city of 20 million people. Quiet never seems to come easily, but patience has to, so much that awareness is an innate quality in most of the people I come across. I have been able to live a fairly ascetic life in a single occupancy dormitory, outside of which there's a quiet courtyard where bats just happen to nest and fly.
The danger of becoming very alone in a foreign country is great.  The danger of letting go and leaving everything you once knew behind is also very great. I have found that I never fully let go of the things that haunt me the most: the infatuations, betrayals, and patterns that have me caught in recurring cyclic fractals still won't leave me, and they still show up here. Even during a nice walk through a 16th century temple, an imperial dwelling place that houses innumerable relics and ancient art treasures isn't enough of a meditation.  It takes sitting, absorbing, being receptive.
The small temple has but a small path to circumambulate the octagonal pagoda. The concept of yin and yang describe how opposite and contrary forces are actually complementary. I find the yin and yang duality appears prominently in this temple space.   The inside of the temple walls (the womb of the temple) painted with bright colors, and dragons (a very yang symbol), and the pagoda itself (also a prominent yang symbol) being made from cold dense metals and stone. Very powerful for me to internalize the masculine becoming the feminine and vice versa, as both the yin and yang elements of the temple also possessed qualities of their opposite.
Tourism to the temple sites with a camera felt guilty like robbery, as if I was raiding the building. Taking photos of the Buddhas inside the temples was forbidden. At first, I was like any other tourist taking pictures, and even though I knew better than to take photos, I couldn't resist.  I wanted to remember and share my journey.  I didn't want to mimic the Chinese way of honoring the deities. I had to connect in my own way and have an awareness and intention for visiting.
Photography became another meditation on the space, to find the right composition or make some artistry out the visit.  At first, staying "present" in the meditation was impossible, I only wanted to look back and be back and feel back. I didn't want to look ahead, and looking through the shutter seemed tolerable. Everything I did in terms of travel felt immature and foolish.  I became lost. The temple complexes and Chinese imperial buildings were some solace with their alchemical historical magic. I slowly got lost enough to recognize the different dynasties artworks, and recognize the deities in their different forms each rendition offering a new face, and a new mood. I see myself becoming like a deity with a golden light aura, wearing fine ornaments, exquisitely crafted. The reflections on the deity somehow managed to sink in, in many different angles, with many different shades and tones. It helped me stay present enough to notice the details, and find things that were different.