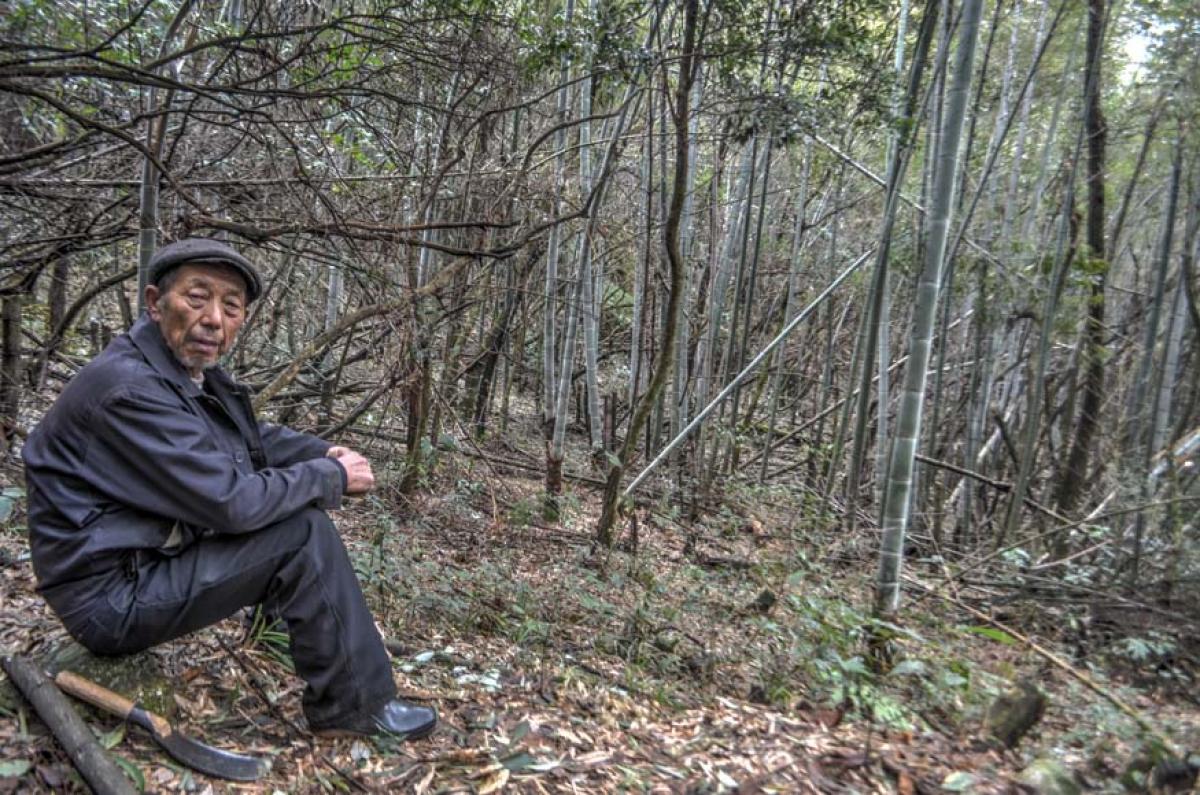 GaoTianYan Field Survey, Jiangxi, China
I went into the field today to set the camera traps here in 黄沙村, 联华 county, 江西 province, China. After waking up at 730, called to breakfast by the man in the host family I'm staying with I get ready with my field clothes. I finish packing the camera equipment, which is 3 camera traps, just in case we have time. I head to breakfast and he's still cooking the noodles and eggs in the bamboo fired wok. I sit by the fire drinking some coffee, staring into the fire with the caldron of water hanging above it. My field guide, a 68 year old man, arrives and sits next to me. He's got light sunken kind of eyes, but a youthful energy. I eat slowly, as they prefer... "man man chi 慢慢吃"... and then eat until I'm full.. "chi bao le 吃饱了" They say these same phrases to me every time I eat. They have a wok embedded into the counter with a fire slot underneath to put wood through. They eat a lot of smoked pork, hand made tofu that's also dried, and other meats including dog meat. One time I ate lichens!
After eating, I further put on more clothes, as the climate here is cool and damp with chance of rain. There is a thin mist that covers everything. As we walk along the bamboo picket fences towards the trail to start our journey, we pass many fields with cows, ponies, and dogs. The small village on the edge of the nature reserve has many houses and about 300 residents nestled within the mountains covered by bamboo, and conifers. The village appears to be doubling in size in terms of houses. After walking for a half an hour, another man joins us for the ascent to GaoTianYan (高天岩), which means, high heaven rock. We begin walking in preparation for a long day. After several hours, we reach a crossroads to the Taoist temple, which is at the top of the mountain at around 1300m. I'm told we'll have lunch there, and one of the men takes that road to begin preparing. We still have several hours to place the cameras so I take off with the other man who guides me along a trail through the bamboo forests. The wet bamboo is blue, sagging with rainwater, amist deciduous trees with no leaves. It's in this area that the man I'm walking with tells me that he's 75 years old, although I would have guessed he was 60. Later in the day, I find him quite whiny when he wants to place the camera traps too close to each other, and I can tell he likes to get his way. I can barely understand what he says because he slurs a lot while talking. Chinese language is difficult enough to understand, and thankfully nothing we have to talk about is that important. He usually can finally simplify enough that I can understand. I'm also challenged with speaking Chinese, although I'm told I sound very good. This area reminds me of coastal California, where I was living before moving to China. The climate and tree types are similar. We place the three cameras after crawling along trails and through the mountains. 
Then, we reach the Daoist temple, which is a reconstructed temple, and so the deities inside are new. We eat a simple lunch of tofu, cabbage, and fried rice patties, with rice. They drink liquor and have a nice chat, and insist that I eat slowly and if I like something to eat as much as I like. We sit by the fire, and I fall into despair. Why did I come here to be with two elderly Chinese men to set these camera traps? This is philantropy at its best. We've already been working for 5 hours to set the cameras. The worst part about it, is that the design of the cameras is not systematic. There was no GIS and no real map for me to use here. The map has the wrong units, and so I'm having to make it up as I go along. Yesterday, my GPS wasn't working properly, so I downloaded an app onto my android samsung, which worked half the time today. We spend another 2 or 3 hours placing cameras despite my bad mood. The Chinese fir forests here are really beautiful. 
Finally a day of rain. I've been working constantly outside for the past 10 days, and I feel like I'm getting a bad case of runners knee. For someone with another month of hiking, this is not good. I'm happy to have a break so I take time to research China's environmental policies and protected area conservation to prepare for my next research report. The place where I'm staying is an informal kind of hotel/restaurant that is run by the sweet couple who I stay with. They are always cooking Jiangxi style foods with a lot of peppers. Many of the dishes are meats in a sea of red or green diced peppers,which is how the people of Jiangxi prepare their foods. They also cook a lot of greens and wild mushrooms, which have been very delectable. 
Today, a group of people from the local government arrived along with the police to get my passport number to fill out some kind of foreigner registration form. They protect the forests here apparently, so I ended up telling them about all of the illegal tree poaching that I saw in the nature reserve; although, it was not a clear cut operation but simply someone cutting groups of 10-20 trees down at a time and hauling them down the mountain. One day I even found the really small small mill where they were milling the wood in the middle of a mountain area that wasn't exactly protected, but no one's land either? Apparently it was a thief and the local authorities seemed very interested that I told them about it. They told me if I one day found him to take a photo. Luckily for me, the group brought me a lot of fruit, filling one small table. They brought me a huge bag of raisins, which are so much better than the raisins in the US. The raisins from Xinjiang are green and so sweet. I usually can't stop eating them. They also brought dragon fruit, bananas, a bag of tiny mangos, and two large grapefruits. It was a significant gift which I thought they brought to me as a favor, but when I tried to give money they refused. How kind. I actually really needed the sugars in my diet. The other day I found a whole pack of Vietnamese coconut candy sitting in the road, which was a godsend because I had no fruits and no sugars to eat that day, and then I ate half the pack in one day and the other half that night. I must have eaten 15 pieces of candy.
Sometimes I find it quite daunting to walk in the forest for 4-5 hours a day. When I first began doing fieldwork I admit that I didn't like it whatsoever. I thought that fieldwork was mundane labor work that pays very little. Now, I even have runners knee or something that aches, so I worry about doing permanent damage doing this much hiking. I have really flat feet from doing fieldwork this long, and I kind of wish I was beyond doing fieldwork after 10 years of doing it, but no. Sometimes I wonder why I don't up for a career change if it's going to be harmful to my health and I don't get paid a lot. I make about $10 a day here. All of my peers seem to be going through the same thing. We're working on this really important ecology work, and we don't get paid well enough to make us feel valuable. It's a rough career to have when compare yourself to other friends with office jobs in computer science or finance making 6 figures or more. It still is mundane and boring for me so I take an mp3 player loaded with talks about self-improvement, comedy, Chinese language, or sometimes music. I try listening to other audiobooks but I can't usually follow them enough unless they're a live speech or something. Climbing the mountains everyday is really rough work. I'm hiking through the forests with no trails, up steep hills, through brush, under brush, up the hill again for 30-45 minutes with a backpack on that weighs 8 or 9lbs. It's not that bad, but not easy either... exhausting 7 days later for sure. I'm getting in great shape in a way. I have been hiking a lot lately after a month of yoga and hiking in Thailand and Myanmar. I'm sure when I return back to Beijing my Taijichuan teacher will be impressed. At first when I began this project I felt like I was in the wrong place, and I may be. I had no map to work with, and no idea where I was. So I set the first 3 traps, but the GPS was broken so I had to go back and take them out again. Then, after setting half of the traps I had a better idea of where I was on the map. I'm a little discouraged from the field site. The locals here are even more discouraged and haven't seen or heard of clouded leopard for nearly 10 years. I may be too late to this place. I'm setting the traps around a village nestled in the mountains. Taking on clouded leopard conservation in China is no easy task. It may take me a year to narrow down a decent field site to find them, let alone study them and their ecology. This place has the elevation and enough connectivity in the forests to where there maybe a small population here, but it's a long shot. I find that I'm mostly on a wild goose chase to find clouded leopards, and that the nature preserve design, governance, and local education is somewhat lacking the proper knowledge to preserve wildlife anyway. They have a few 65+ year old men in this village alone trapping the deer and wild boars for food. 

We hike for hours and yet only place one camera trap. When we get to the eastern side of the mountain there is a lot of tree poaching, and this is something I see everyday. There are 9 or 10 trees cut down. It seems like a new operation that's only begun recently. There are a lot of these micro-clear cuts in the forest that I now have seen everyday that I've been hiking. In the springtime in Jiangxi the rain is falling lightly, and every few days the rain will fall again. 
The people I'm working with are really great. Sometimes it's one person, sometimes two or three. It seems they are really hardworking. I notice they wear blazers to work, very classy!
Yesterday was raining, and today we didn't go out until after lunchtime. Fortunately two groups of over 10 people came to lunch each day. I've become the Jiangxi gourmand, eating at the small hotel/restaurant where I'm staying. The feasts have a lot of different dishes/flavors. One of my favorites is the soaked wild bamboo, which becomes tender with a slight crunch, or the wild mushrooms which are harvested from the mountainside then sauteed in oil with green onions. Most of their meat dishes are full of red and green peppers. The ham slices have a huge portion of fat on one end, with a slight bit of tough dried meat on the other end. Usually they make a plate of sauteed greens as well as a large pot of rice. I notice that they use most of the animal parts. Their chicken soup has chunks of meat cut off with the bones still inside, with the head sitting in the soup pot as well, which most times I see people eating with no problem. I've been offered dishes with only the intestines of the chicken, which are then covered in an oil and red peppers. Pig feet, with their tendons and ligaments cooked down to a softer pliable form. It's common to eat a dish of julliene potatoes which are then sauteed with a bit of green onion. Eating liver is a common dish of course covered with red peppers and oil. For breakfast, lunch and dinner, we're usually huddled inside the kitchen area that uses a woodfire wok, and a hanging cauldron. The rice usually cooks in the cauldron, afterwards a plate of slices of pork will be kept warm. The daily burning of the wood keeps us warm, and keep the drying pig meats on the rack above properly smoked. The dry hot air from the fire fills the small room and covers the inside of the building with a thick black charcoal.