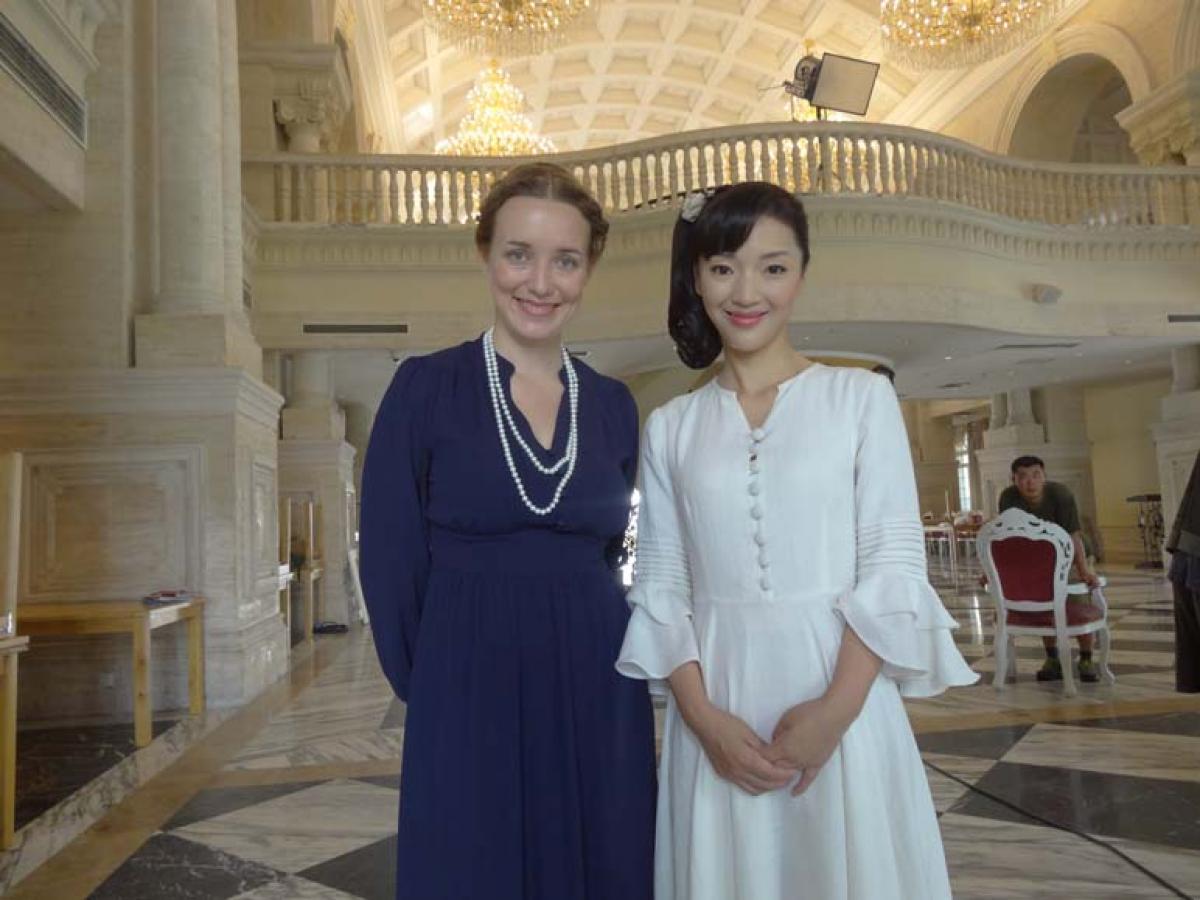 Beijing Actors Original
There are 11 agents on my WeChat that look for me occasionally, and think of me because I've been in Beijing for a long time.   WeChat is the Facebook of Asia, and it's a mobile app, one that I use for everything. I use it to scroll through the moments of pictures, which are usually all in Chinese language, and heart photos. Right now I have 452 contacts, and after three years, that makes sense. The agent's messages almost always start the same way texting "Hi, are you in Beijing" 你在北京吗?" "It depends, what's going on?" I reply, always eager.
A short voice message comes through and in a heavy Chinese accent I hear basic information about the gig. "It's for a movie. I don't want to waste time for audition. Can you do a video of yourself, like introduce yourself in English. Face the camera with somebody to help"
Sometimes there are two auditions or wardrobe checks for a set movie role, and so it makes me happy that these short videos will pass. Unfortunately, I'm neither beautiful nor a talented actress, and so gigs are few and far between. I got a tv show about art in China, and I do commercials, but larger roles are not common for women. The foreign actors who are men have a much easier time because they can play roles such as military, politicians, and husbands to Chinese women. It's less common for women to get roles in TV shows and movies. I look forward to it as it brings me into this small niche community.
The foreign actor's union tries to set some boundaries with the agents, and help young actors raise their rates according to industry. There are plenty of rumors about how much of a cut an agent can take, and often it's more than the actors are making. Indeed, it's not contracted work, and the agent does their best to negotiate the price of the work so they are paid well.   I don't complain about the rates usually, because I lose the argument everytime.  I take what I can get as an American actress a European look and California accent. It is a very different underground system compared with that in America where agents will get a strict 10-15% and nothing more. It's easier to cut the agents out and work with the directors, and if you are well connected it's that much easier.
In the far back corner of an 100 ft. high industrial sized greenhouse is a small constructed, insulated, and heated room. The three vanity mirrors with five or six white light bulbs are placed around the room on separate desks, sloppily filled with bulk Chinese makeup supplies, lotions, curling irons, and hair dryers. An adjacent corkboard holds long straight imperial Chinese costume hairpins and other jewelry accessories. Covering two side walls are printed paper portraits, full face and side angle, of Chinese and foreign actors and actresses wearing  late 1860's traditional clothing and hairstyles. A five shelved bookshelf divides the room, with the lower shelves filled with men's ponytail wigs for historical recreation of Manchurian style shaved foreheads and temples.  
My agent, Xiao Yi (Small One) helps prepare me with stick on heating pads, which she prepared in advance. I slip them under my blue costume garments, and stick them to the underside of the shirt.  Xiao Yi is around four feet tall, long hair which she wraps tightly in a bun on top of her head, and I notice she always wears the same white long sleeve dress with a high neck and Chinese beads, and a white down jacket.  She only speaks Chinese, and so I get the chance to practice with her. Looking at her, she would look cute with a small high cartoon voice, but she has a local Beijinger's accent with the way she pronounces certain words like "门口dooryway", which she pronounces with a thick slur.  She's young, 25, and from an adjacent province Shandong, where many of the Chinese living in Beijing are from. Most often seen on her phone getting worked up chatting, or standing around.
The weather outside is freezing, and there are only a few rooms in the greenhouse which are heated. Huge floor length down jackets, face masks, and heaters are the only defense against the cold. Changing clothes and filming is literally freezing, and I wearing a silk nightgown for half of the shoot. There are heaters in the makeup room, where I sit to have them do my makeup. The process takes over one hour, and I use the time to relax and reflect on my lines that I was given.  My hair is straightened and then curled on oneside and put under a hat.  I am playing a harlot, who was married to a drastically older Scottish captain who has been out to sea. I reunite with him, and then have an affair with his handsome Chinese assistant, which causes tons of drama between everyone. I was afraid of acting as a creative medium for my entire life, and perhaps of my introverted nature. I started acting in Beijing because I wanted a challenge, and to try something new,  not because I had refined my talent for acting and wanted to break out and hit the big time in Beijing. No. I've done a lot of on screen acting compared to some talented actresses in LA, because of the niche acting market here.  I get cast frequently without even trying since I'm connected to network of agents which help filter down jobs from casting directors.
Inside the heated waiting rooms, I associate with the other foreign actors who are part of the cast. Sometimes, we wait for most of the day in the waiting room to be called to shoot our scenes. On this particular set there are around 15 foreign actors from different countries like Germany, Russia, Spain, Ukraine, New Zealand.  We sit together on wooden blocks and makeshift furniture. Several of them are Russian or Ukranian guys, and the 2014-2015 war in the Ukraine was picking up, so they recount stories from the news, each watching the updates daily and criticizing the American government for funding it. I start reading in my free time to catch up on what was happening through a series of independent journalism sites criticising the western media for misrepresenting everything that was happening, and covering up Pro-Russian stances, or Neo-Nazi stances. I'm simply relating as a human being to the other people in the cast who are watching places close to home get bombed, and not so much an activist for anti-war movement. I should be. From their perspective, every American should know about every military dealing in the world where American government is involved, because if I'm not up to date about the war in the Ukraine, or Oman's position in the Iran nuclear agreement, etc. in a place like Beijing, then your entire intelligence as an American will come under scrutiny time and time again.
The "greenhouse" film studio is a series of props and makeshift sets, surrounded by large hanging green curtains which work well as a green screen. I walk past the horses, the large makeshift ship, piles of wood, and extra props. The man who plays my drastically older Scottish husband, Scott, sits around the space heaters chatting with a few other foreigners. We're waiting to shoot. The casting director must have thought we looked alike because I do have Scottish ancestry. It's nearly Chinese New Year holiday, and he tells me some funny stories about Chinese new year dumplings from his neighbor where he lives in Tianjin.  His loud voice and laughter are somewhat abrasive. He's a Scottish born South African, who was a ammunitions trainer for the military so he has a dangerous disposition. We sit around practicing our lines until we're called to set. There are a few makeshift props, a tent, and a fire. The director gives us scene by scene directions so we don't have to remember much. They shoot us from several angles and do close ups, with the crew standing watching us.
The post processing of the scenes are done so that everything looks incredibly realistic with CG, like a forest or the sea. The crews usually dub over our English lines with Chinese, so they don't have microphones on us. Most of the TV series in China are done this way. Some of our scenes are emotionally intense with fighting and adultery that was going on. His Chinese assistant, Thomas, is there and I have to act as if I'm completely drawn to him and disinterested in my husband. There's a lot of drama, crying, getting in bed, fighting in bed, and getting tossed around.
Xiao yi is careful to rush over and supply me with my jacket and shoes as soon as the filming is finished. She also supplies me with ginger tea from a large vat provided freely throughout the day. Since I was so cold standing there in my silk nightgown wearing high heels in the freezing cold temperatures, her support is invaluable. The whole crew shuffles the lights and equipment around us, lifting heavy objects and not complaining. The directors sip hot tea behind the preview screens, and yell loudly at everyone occassionaly. Usually the directors do not speak English, so I take directions in Chinese on set. Often times, it's confusing due to the language barrier.
The food on set for lunch and dinner is nice if you are grateful for it. Otherwise, it's a series of large metal vats filled with rice, meat, and vegetables, which are dished out by several people into small red and black plastic divider take away dishes. Then the actors would all sit on the piles of wood materials used for making the set, or put their trays onto the unused set materials itself. Not everyone would get a place to sit so there. I'd sit there quietly amongst the Chinese actors, many dressed with the characteristic hair braid and shaven head that was characteristic of the time. Most of them were dressed like normal farmers or villagers, with tattered shirts and pants or minority looking clothing. I start talking to one of the village ladies in Chinese, who is wearing an earthy purple top with some green embroidery, and we get into a conversation about where she is from. We exchange contact information, and Xiao Yi starts yelling at her not to get my WeChat or phone number. Often times, Xiao Yi is paranoid that I am going to find the casting director and cut her out of the deal. She hawks after me the entire time making sure I don't get anyone's phone number.
I've been somewhat versatile playing various roles as a mother, executive, and historical character for these TV shows and commericals. I'm not exactly on the circuit because I'm a student full time, but it's a community I've grown into over time. It's lucrative and some of the foreign actors are full time with much more life long stories of an opulent lifestyle to tell. For me, it's a creative hobby. When I return to Beijing often times there's a magical three day gig waiting for me with birthday cake and grass to lay on at a winery chateau. It's an escape from my small university dormitory reality into a world of magic and play.