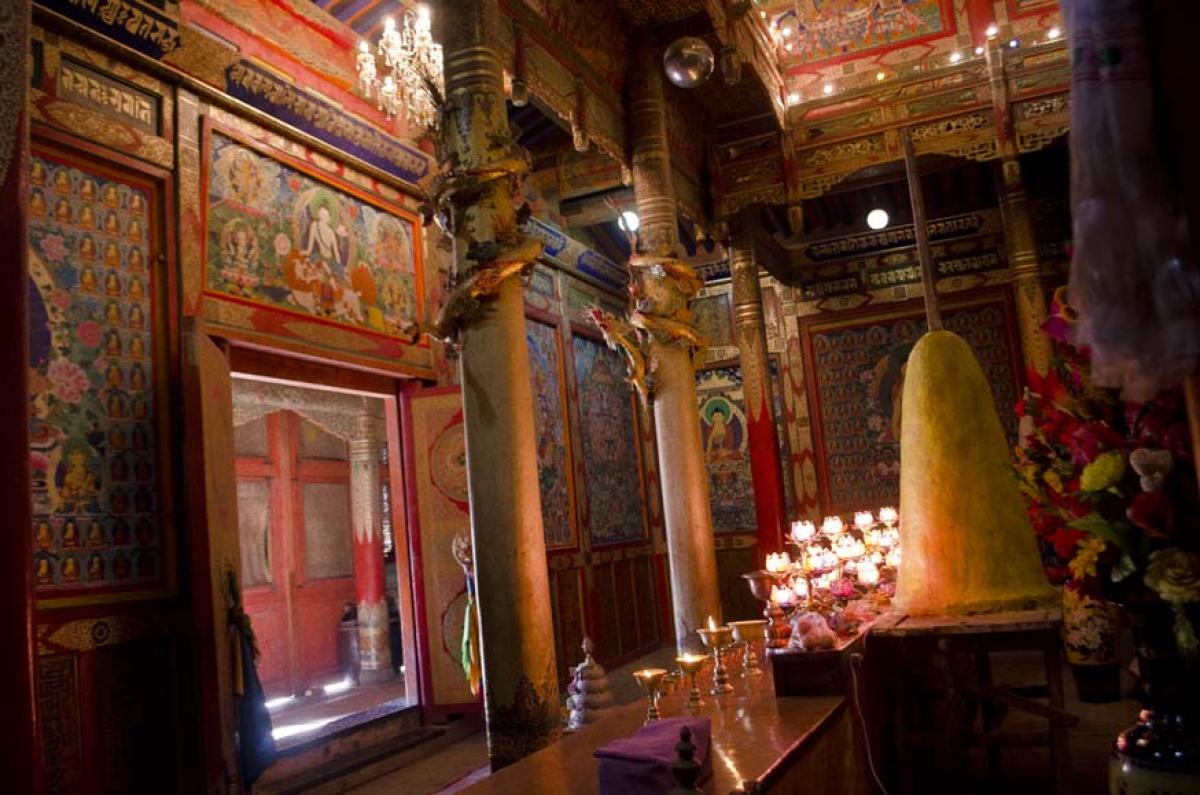 Rebkong, Qinghai province
I snuck on the bus to Rebkong, Qinhai province, at 6am with a white and turquoise Tibetan shawl covering my head and face. The owner of the small hostel I stayed at near Labrang monestary warned me that due to a recent self-immolation there that they weren't allowing foreigners to get on the bus, but he said to conceal myself and I would be fine. I wanted to visit Rebkong because I discovered on the internet some information about this small traditional thangka painting village and I wanted to visit it. Luckily it was cold enough out that the heavy jacket and scarves seemed normal, I darted my green eyes quickly around to get through the ticketing booth, and I quickly pretended to be asleep in the front of the bus for the two or three-hour journey.
The bus arrived into the area and I found myself staring and lots and lots of half finished cement apartment construction as we near the small town. The Chinese development companies were building a small city on top of this small Tibetan town.  I got out of the bus and headed towards a small hotel hoping to find lodging easily here. They did not allow foreigners to stay at the first hotel I stopped at but luckily there was another place in the area with the necessary permitting. After checking in, I took a walk through the town. On my walk, I saw the newly established business malls and ranks of Chinese soliders, dressed in their standard green uniforms with a red cuff, parading in unison through the town in a group of thirty. I noticed the oppressive government as well as the Chinese business culture which had established itself in one area of the town. Many of the shops were blaring Chinese music. At this same moment that I arrived there, I was reminded of my own families losses. Suddenly, I felt a deep connection with the female monk who had performed self-immolation after seeing the drastic amount of construction there. The parcel of land I grew up on with my family on was auctioned off by my grandparents and set to be developed, and just before the construction was set to begin my brother had committed suicide on the land there. It's not the same situation at all. I don't know why my mind was suddenly drawing this parallel. I wanted to see the situation from her side too and relate to her in some way, and my mind wanted to find some meaning there. It's not the same, and my brother didn't commit suicide because of the development, but because of his own issues. He was troubled with heartache at the time. It seems like the act of self-immolation is so powerful, and the loss that the town was experiencing could be very palpably felt in the psychic ethers, and seeing the military presence there made me think seriously about my decision to arrive there. Did I need to continue hiding? Would I be kicked out? As I walked through the town with my head and neck covered trying not to be noticed by anyone, especially the police forces, and I felt a kinship with the people there who were also suffering from this loss. I felt heavy in my spirit knowing this had happened there, especially after seeing her sweet photograph dressed in the maroon robes, the entire community may have been also feeling this similar heaviness.
My interest there was in the temple complexes, and Tibetan culture, which was weaved throughout the town in the architecture and artistic touches on the buildings. There are two large impressive temple complexes, Longwu and Wutun and a nunnery. The largest monestary Longwu, is in the center of the town. I wandered through in awe of the architecture. It was different than what I thought it would look like. I had only been in China for 6 months, and the temple construction I had seen up until that point was by Nepali and Tibetan sculptures and painters in America, or Chinese temple construction in Beijing. So, the first time in the middle of a large Tibetan monestary complex was mysterious, and I had wanted to see all of it. Then I wanted to know more about how to tell the difference between the buildings in the different school of Tibetan Buddhism, such as Black hat, Red hat, or Yellow hat, which each had definite features on the buildings.
There were many different temple buildings that opened according to the different schedules of their caretakers. A few times I felt lucky to track down and find those with the keys to be let inside, and other times I had no such luck. Some of the temples seemed closed for the entire day and others told me to come back at certain times. I knocked on doors trying to get keys to get inside and be alone in some of the temples. Sometimes I was lucky, other times, I was left wanting.  I must have seemed eager, and almost demanding to the monks who held the keys. I was also being kind of sneaky, taking photographs and working covertly to capture this place in my camera so I could share the magic I had found with everyone. 
The temple for Tsongkhapa, a prominent teacher from the Gelug school of Buddhism, was especially ornate, with a three small tiers to the temple building, each a different layer of paintings, reaching to the top of the 30-40 foot deity which had a small photograph of the Dalai Lama enshrined on his lap. Tsongkhapa (1357-1419), was a buddhist scholar who led a renaissance of Buddhist teachings, and is regarded as a reincarnation of Avalokiteshvara, Manjushri, and Vajraprani and yet did not display any magical powers yet advocated for teachings of pure virtue and lived his life as a role model. The dieties of Maitreya, future Buddha, or Avaloktisvara, the Goddess of Mercy, were studded with gems and embossed with several metals, and the elaborate story paintings of Guru Rinpoche, and sophisticated decorations created contained spaces for meditations and spiritual experience to manifest itself in the heart. Multicolored quilted silk decorations hang from the tall ceilings nearly touching the meditators. I walked slowly through the area from smaller temples to the bigger temples up to the top of the hill, following endless lines of prayer wheels to spin as I walked. Every pillar covered in cloths and paintings.  Through stairwells up to the rooftops, circumambulating the deities at the top of the temples, being blessed by tiny Buddha's hiding in all corners and levels of the complex. 
During the walk, I met a nice young man. He looked very modern, wearing a down jacket and carrying a Nikon camera around his neck. He told me in his broken English that he is from Rebgong and that he is a painter and a photographer. He got out his IPAD and began showing me the photographs of the area that he's taken which are bright and well composed. He was an impressive photographer. Then, he began to show me pictures of the Thangkas that he had painted, which are masterpieces of the arts, black background with think gold feather think brush strokes, white background with full color depictions of gods and goddesses in the Buddhist pantheon. It was hard for me to believe that he was really a painter and not a young sales guy repping for some old man. It actually had taken me several months of getting to know him before I actually believed him, several months later, when he had effortlessly sketched on a canvas a small deity to paint in myself. His original story to me was that his father was a painter, and his father's father was also a painter who worked for the Panchen Lama. He told me that he began training for painting when he was 6 or 7 and was trained for his entire life until now, and he's 25. The paintings he produced, although similar to the others in the area, had been recognised among several arts circles and societies which he hoped would one day actualise his dream of going to Europe to study despite strict Chinese laws about not giving Tibetans passports to get out of the country. There are few people who had achieved his level of mastery and he was getting all of the proper recognitions in place. We spent the day leisurely walking around the temple complex together and taking photographs. We hardly talked while walking around and he tried to show me a few of the areas I would have missed had a local not wanted to show me around. I gave him my phone number and email excited that he was planning to come to Beijing soon. He walked me back to the hotel and we said goodbye.