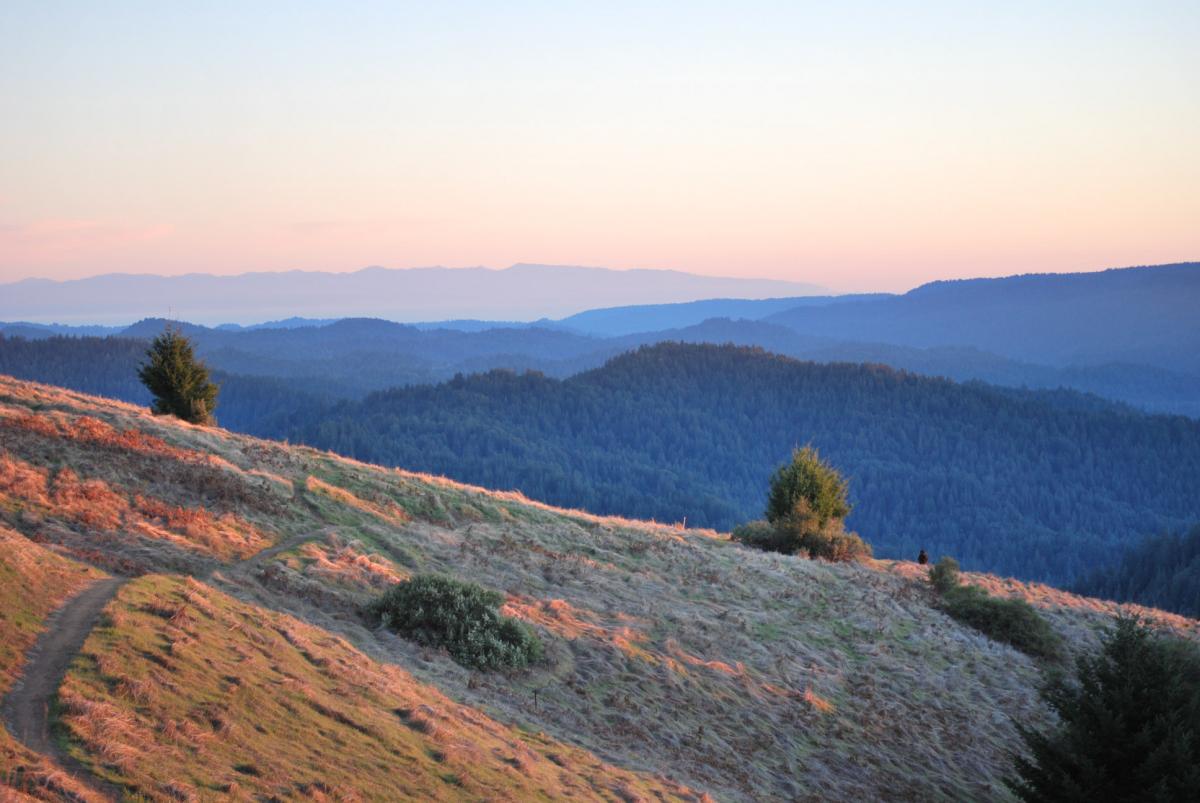 Romantic Getaway, Santa Cruz Mountains, CA
 In between the California coast and the greater San Jose area is a huge wildlife corridor that is perfect for a romantic getaway from San Francisco, Santa Cruz, or San Jose.With millions of inhabitants, the San Francisco Bay area has apparently has better things to do because there are relatively few visitors. Most of the area has been preserved as state or county parks down to the coast, and staying through an entire weekend will no doubt include camping at one of the several state parks, or at Stillheart, a retreat center that also holds yoga and meditation classes.  There are several places I can recommend as great destinations in the Santa Cruz mountains to have tea, take a hike, and have dinner all while intermittently enticing your date.
1.In the morning, visit Hakone Gardens for the Urasenke traditional Japanese tea ceremony 9am-1pm Friday and Saturday morning. There is a five dollar entrance fee to enter the gardens. Located in the foothills outside of Saratoga, and established in 1915 is this unique and beautiful Japanese garden and cultural center. In fact, it's one of the oldest Japanese gardens in America, and they have pruning and maintenance of the Japanese plants as a community classes as well. Hakone Gardens is often the site for weddings, banquets, and other special events, because it is so scenic and idyllic. There are also several special events including Japanese Opera, Film events, and annual festivals. If you're looking for a place to have a deep zen romance, this is the place. The koi pond, zen gardens, tea rooms, bamboo, and art galleries can induce a reflective meditation where you don't need to express love or even say anything to each other.Be in each other's presence; honor the present moment and when the moment calls recite a romantic haiku.You can be reserved and not let your emotions spill out all over the place and create a romantic deeper meaning, like a bonsai, condensed and potent.
2.In the afternoon, take a hike and pick flowers along Russian ridge Open space preserve. Take a picnic, bring water, and stop by a winery on your way up and pick up a bottle of Santa Cruz mountains wine. There are several wineries on the way from Hakone Gardens to Russian Ridge, and usually have wine tastings if you feel so inclined. Russian ridge is up on the ridge and looks down to the ocean. There are several springs and waterways in this area that create a lush environment. These gorgeous rolling hills are cartoonish and surreal because of the shapes of the hills and the dispersion of the meadow vegetation.Follow the winding trails and around every bend there are stunning views of these picturesque grassy hills.There are 8 miles of mostly uphill trails in this part of the park, and let's make exercise romantic. At certain moments, I feel like I'm hovering above clouds when the mist fills the canyons.The wildflowers on Russian Ridge are diverse, unique to this area, and explode in the spring and fall. Some favorites include lupine and california poppy, gumweed, mules ears, farewell-to-spring, and brodiaea. Who needs a flower shop when you can pick a few native wildflowers for a native flower bouquet. Russian Ridge is a popular site to view raptors, and we saw several while we were out there including one gigantic Red Tailed Hawk.
3.In the evening, make reservations and enjoy gourmet dining at The Mountain House in Woodside. It is a long wooded drive from every direction, and nestled deep within the protection of ancient redwood trees. With a bar and fireplace in the front of the building you can enjoy a casual evening of drinks or venture sit in the formal dining area. If you get there before dark you can enjoy the earthy ambience of a redwood view in the back forest room, and they also turn on viewing lights after hours to highlight and enchant. If I were to recommend a dish, any of the specialty wild game dishes will serve your interests well. This unique restaurant has a wild game special that makes this place exotic for the area, and people drive for over and hour to dine here all of the time. At the table next to me, one woman had driven from Fremont and frequents the restaurant often. She mentioned the warm lighting and beautiful location as reason enough to visit. The weekly menu ideas coupled with culinary expertise make this place stand out. Also, waitstaff dresses to impress and they deliver on class and quaint elegance. While waiting for your food, this is the perfect time to engage in friendly conversation, hold hands, and write romantic poetry about your romantic Santa Cruz mountains visit on your placemat.
Now that the evening is coming to a close I suggest driving to nearby Skeggs point for an after dinner make-out. The lookout overlooks all of San Jose. Since you are far outside of any city, you can see the entire sky and sky gaze, or gaze into each others eyes.A visit to the Santa Cruz Mountains doesn't happen by accident, and neither does romance.