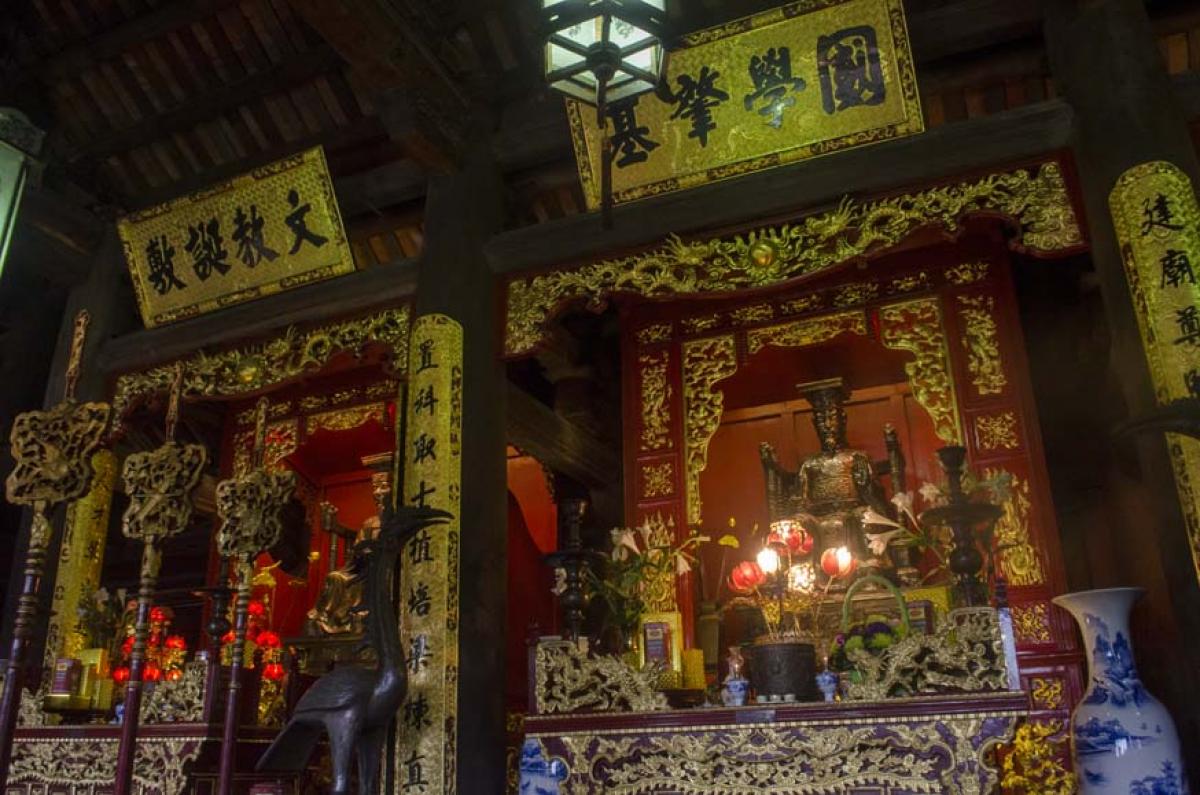 Hanoi Old Quarter, Vietnam
Tons of motorbikes. I was overwhelmed by the noise; although, quaint and pretty in the Hanoi old quarter. It's also just tight sqeeze for cars. It's not that nice.  Hanoi Old Quarter when I first arrived was filled with motor scooters and people with small baseball hat helmets, which I found to be functional and discrete compared with a full sized helmet. Whether these small hardened baseball hats offer any protection to the outside world I'm not sure, although they must enforce the law quite severely for everyone to be wearing one. It's refreshing compared to China, which is far more lawless in this regard. The bikes don't stay in their lane and there were no stop signs or stop lights in this part of the city, which I found to be completely dysfunctional for the normal pedestrian who has to dodge traffic crossing the roads anywhere. I had one encounter upon leaving with my heavy luggage where the motor scooter had to brake quite severely. It seems that motor scooters form 3 lanes for every car lane, and one way traffic only. I heard it was a sea of motor scooters on the roads, but experiencing it at ground level is more chatotic and noisy than I had imagined. 
My brother had been interested in visiting Asia for a short while and had tossed the idea around and finally solidified some plans. I had never had Vietnam, Singapore or Malaysia on the top of my list of destinations, but once I started researching them online before the trip they became intriguing classy historic places to go. We were going to the guidebooks most recommended cities, old quarters, and areas within these three countries. It's one of the first times I've ever traveled for travels sake with a group. I usually travel alone on a pilgrimage kind of adventure to temples or working as part of the wildlife biology work that I do. 
When Luke and Stephanie arrive they feel the same way about Hanoi. In the late morning, we meetup at the Spring Flower hotel we're staying at nestled in the old quarter. My brother is a mid-career professional in the biotechnology industry working with biosensors for diabetes. He's been working for the same company for the past 6 years working as a biostatistician, and now senior biostatistician for the project making a biosensor to alert diabetes patients of falling insulin levels. Stephanie is 33 and a professional judges aid working in the legal industry in the court in San Diego.They've both never been abroad before. Erica just finished teaching English in Korea for a year, and this was her final Asia trip before heading back to the United States. The average American does not travel abroad, with statistics showing that over 45% have their passports, but only 5% ever leave the country and go abroad.  
They're going to attempt to push through the jetlag after their +15 hour flight and hope to explore, shop and see some sights in the old quarter. We decide we wanted to see the water puppet theatre that's famous in this area and decide to head over to buy our tickets, which cost roughly $5 per person. We at first were going to go the following evening, but changed our minds and bought tickets for the 8pm show. Then, we visit the illustrious Ngoc Son Temple or 'Temple of the Jade Mountain' which is dedicated to a war hero who defeated Kublai Khan's army in the 13th century in their attempt to invade Vietnam.  The temple built in the center of the 'Lake of the Returned Sword' or Han Kiem Lake. We venture inside the grounds of the temple and see a few frescos at the gateway of tigers and dragons. The writing on the outside appears to me to be Chinese lettering, but Vietnamese language 100 years ago looked like a Chinese script, which was later romanized.  We then crossed the long red bridge and past plumeria trees and tropical bonsais towards the temple.  We hang out in the gazebos overlooking the lake for a moment and venture inside the pagoda to see bronze statues, altars, ceramic dragons, large red horses, incense, fruit and food offerings, and meander throughout the compound to find a giant preserved turtle which was found in the lake weighing over 250 kg. There were only a few placarts explaining the interior of the temple. The legend of the lake stems from a Golden Turtle God being returned to the lake by an emporer who defeats the Chinese ming dynasty with his magical sword. Turtles are sacred to the lake and are auspicious to find swimming inside.
Afterwards, we want to walk around the old quarter to experience Hanoi.  Erica and Stephanie are obviously avid shoppers; therefore, they appear impeccable with the right clothes and the right accessories. They swarm the shops and start finding  handwoven bags to buy for a day bag. Unfortunately, I'm not interested in shopping at all, and I wind up standing on the street waiting for my brother and taking photos of the antique shops. What I find is interesting, with masks from a northern tribe in Vietnam. 
We then go in search of some street food and wind up at a place that serves only deep fried tofu,pork, noodles, salad with cucumbers mint and herbs, and tiger beers. We sit down in the characteristic low table and stools. Stephanie has never learned how to use chopsticks before and so the auntie, dressed in a leopard jumpsuit,  teaches her how to do it. I manage to eat my entire plate of food ravenously before she takes her second bite. I loved every bite. Putting red chili peppers and lime juice in the soy sauce excited my palate so much, I almost consider always spicing up normal soy sauce. How could I ever eat it the same again? 
We then go back towards the lake for a coffee at the café on the lake. It's an old building that has been turned into a café and bar. There are historic photos inside, which then made me look at some of the old buildings in a different light. Especially the big one behind the one we were eating at. That building has been 'modernized' and covered with neon signs and filled with businesses. The adjacent lake becomes lit up with rainbow colored lights at night and the small pagodas in the center are also lit up. The night scene was coming alive. We did a lap around the lake and headed to the water puppet theatre. The theatre's water stage is enchantingly lit. We all attempt to sit down, but my brother who is about 6'3" can't even fit in the seats. He's too tall, and at first they tell him to sit in the aisle. We decided he was a giant that came to Vietnam where most people are 1-2 feet shorter than he is. Finally he gets an aisle seat to enjoy the show. Apparently they choose 1-0 scenes from over 400 to perform.   I watched the 45 minute show with total joy and excitement, probably because I was hanging out with my brother. He and Stephanie, on the other hand, were totally crashing from their jetlag. I didn't find out until later but they were both close to completely nodding off. I felt so bad we even went to get coffee. After the show, we got out of there by 9pm, but instead of heading back to the hotel we have to go find a bag that Erica wants to match Stephanies. I realize the two jetlaggers are so tired that they just want to be taken back to the hotel, but for some reason we all tag along with Erica to find the bag store.  We get lost for about 10 minutes going down the wrong street, which ended up being completely crowded with stalls selling knick knacks and other crafts, which was my fault because I thought we wanted to simply go towards the hotel. I would have been happy to take them back knowing they were really tired. Apparently, hearing about this from Lucas and Stephanie later, they were totally overwhelmed with Hanoi at this point. The whirling of the motorbikes, and the sheer noise of the motorbikes made their head dizzy. It's obnoxious in Hanoi because they don't have any subway system. It's unbelieveable and overbearing at first to be amidst such heavy motorbike traffic trying to dodge the bikes to cross the streets, caught in a dangerous crossfire with seemingly no safety. Especially when you're crashing after a jetlag it's even more disconcerting. 
In the morning, my brother woke up at our leisure. I wanted him to get as much rest as possible so that he wouldn't be tired from the +15 hour jetlag. He seemed to fare pretty well and woke up in the morning relatively early, so we headed to the Temple of Literature. The Temple of Literature is found on the back of the 100,000 Vietnamese Dong  banknote. It was Vietnam's first national university circa 1070, as well as a temple of Confucius.