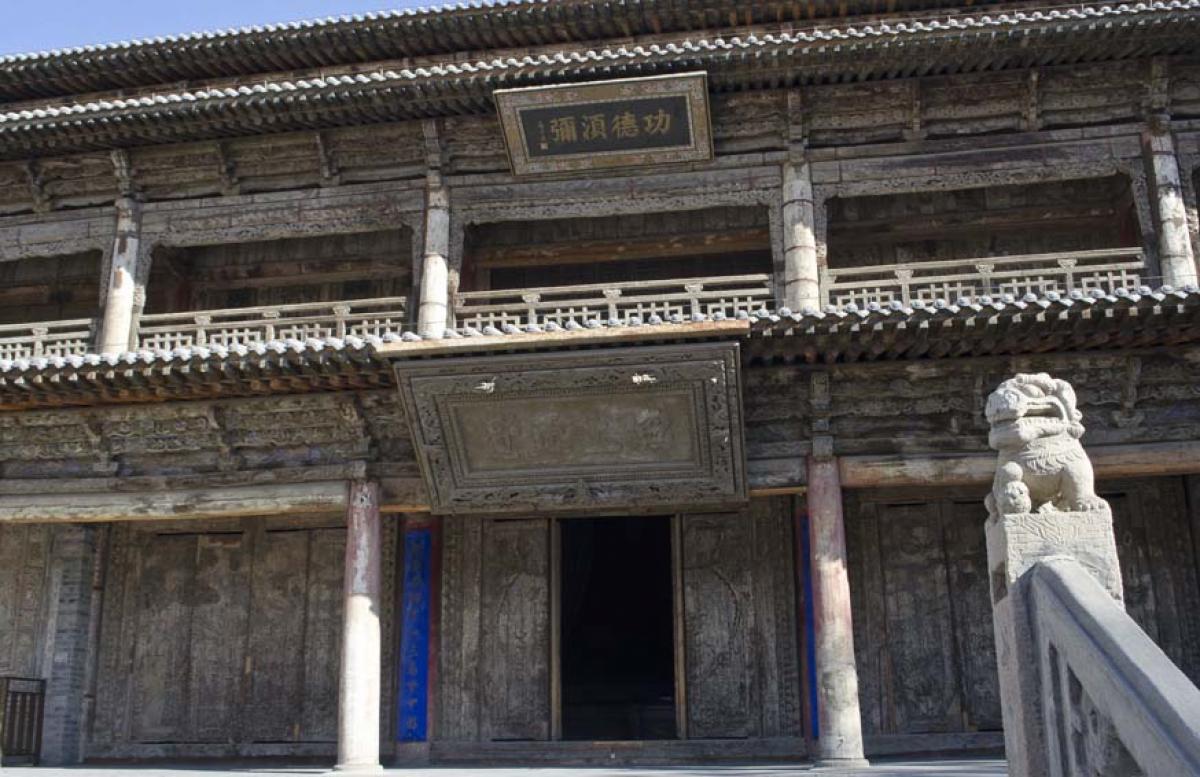 Zhangye Buddhist Temple: The Birth of Kublai Khan
Zhangye, at first glance is an average Chinese city in Gansu province filled with clothing shops, and few restaurants, or cafes. After walking around here I was curious if there was anything other than consumer culture going on here.  I came here to work with a team of natural resources professionals in China for a snow leopard conservation meeting.  When two of the ladies on the research team I work with told me about a monastery, in my mind I thought of a Buddhist nunnery, and was expecting some old fashioned, boring place. My imagination is very vivid, but when they said monastery I thought of an actual dusty, old, and boring Buddhist complex filled with elderly monks and nuns. 
Apparently they had not been inside yet. Inevitably, what I had come to find was even older temple, the Zhangye Buddha temple, exists there, which was initiated in 1098 and originally called the Kasyapa Tathagata Temple. It holds the largest indoor clay sculpted sleeping Buddha with a wood core in Asia.  Within the main part of the city is the birthplace of Kublia Khan (1215-1294), founder of the Yuan dynasty. This Buddha statue is Sakyamui Buddha, There are over 10,000 cultural relics within several museums on site, and most protected site of the Hsi Hsia Imperial family.
Kublai's mother Sorghaghtani Beki, who birthed Kublai Khan at the Sleeping Buddha temple, was also a prominent figure in the 13th century, and was a renowned woman of the Mongols. She herself was a Nestorian Christian, but she taught and patronized a variety of foreign religions.  Kublai Khan also was known to assist the Christians and support Muslims, as well as give philosophical discourse on the variety of religions. 
In The Travels of Marco Polo, there is an extensive section on Kublai Khan, who Marco Polo met in 1298, when Kublai Khan was 85 years old, and had served as the emperor of China there for 42 years.   At that time, he was the first non-Chinese Emperor to conquer all of China. He glorifies Kublai as "great Khan of Tartars", "lord of lords," and fully describes a civil war with his uncle Nayan Khan, who was a Nestorian Christian. Nayan lost this battle, and Marco Polo describes Kublai Khan's appreciation of the Christian faith, by ordering Christians to attend him with the four gospels, perfuming it with incense, and ordering the nobels present to do the same. He practiced this during Christmas and Easter. He honored four great prophets, the Christ, Mohammed, Moses, and Sogomombar Khan.  Marco Polo describes his behavior towards the Christians "that he believed their faith to be the best and truest" Although not proclaiming himself to be a Christian he wrote a letter to the Pope in which he contrasts the idolaters and Christians, giving his interpretation of if he was converted to be a Christian or an idolater what would people say. The Tartars at this time were Mongol and Turkic elements, worshipping tablets and various earth gods.