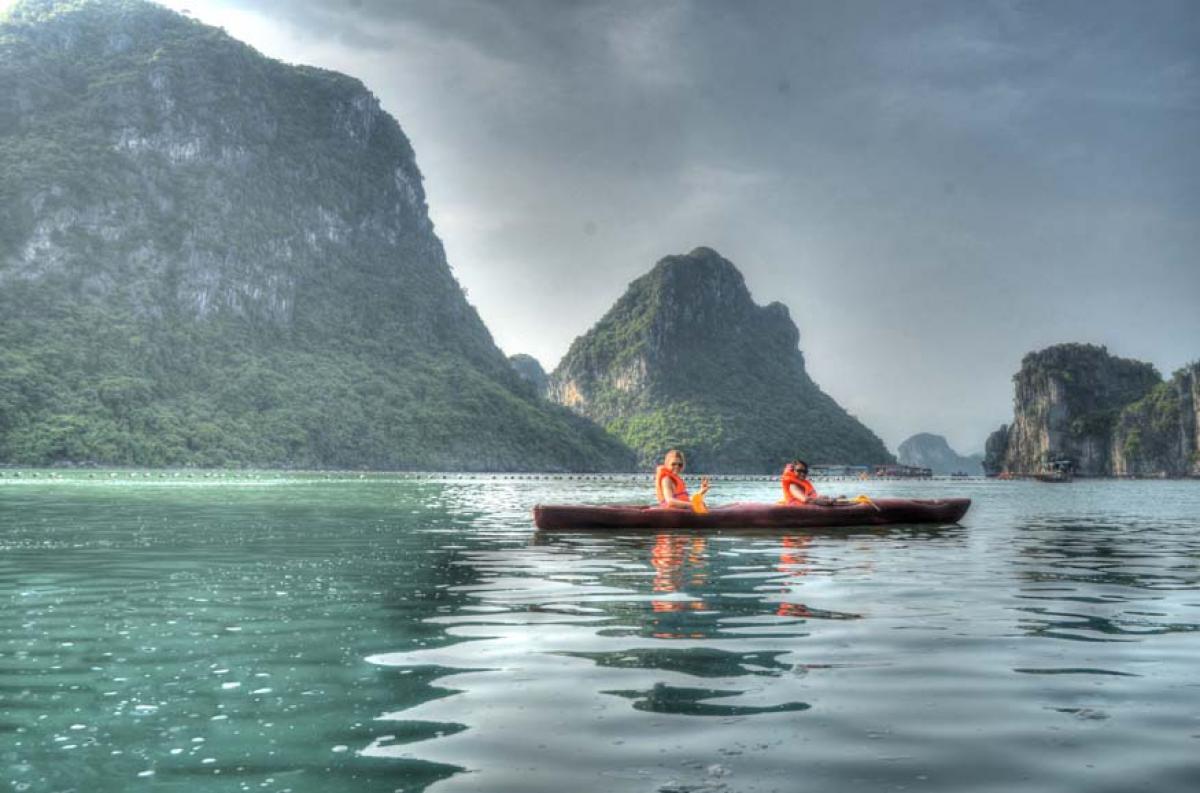 Halong Bay Cruise, Caving, and Kayaking
We took the bus the next morning to the Halong bay cruise, and after 3 hours we arrive to the boat harbor to wait for our transfer to the cruise ship, Paloma. Paloma was a mid-sized custom wooden cruise boat which could probably hold nearly 20 people at once. These types of mid-sized cruise boats are considered higher priced and more comfortable than the junks. It's best to book in advance for a cruise boat if you'd like a comfortable experience. I was impressed with the custom asian style designs on the inside, the red hardwood walls and old photographs of Vietnam on the walls. Halong bay at first sight is stunning, and the photographs are equally as incredible. The limestone karst formations jutting out of the water covered in jungle plants and hissing with crickets. We went kayaking on our first day out to sea and saw hawks, got our arms moving and blood circulating. 
We also kayaked through one of the fishing villages, which was an incredible place. It was full of small stilt houses. Unfortunately, the fishing villages of Halong Bay will be relocated to a spot on the land, and this was the last year they'd be staying there due to a village vote. It seemed to be a hard life for them on the water in very small houses. I saw many children playing in the boats. Offshore there were larger fishing vessels stationed nearby, which is likely where the villagers work for a living and money. I doubt any small fishing operation would be able to compete with the huge vessels nearby. I saw at least two and our boat didn't even move very far. I'm shocked they still fish in Halong bay after the huge influx of tourism to the area must provide huge amounts of income to the area at large, but apparently not much of it trickels to the local community as we would think. I didn't see any mansions out on the water in the fishing village. 
Around 4pm, we returned to our cruise ship to have a rest or swim before our sunset sangria party on the ship's upper deck. We relaxed eating fruits and watching the sunset over the bay. We then learned how to make spring rolls. Erica ended up winning a prize, which was a free drink. We then headed to dinner. Somewhere along the lines, we managed to completely go overboard with the food restricted diets. I'm vegetarian, Erica is gluten free, and Stephanie is no seafood (was at first no egg). None the less, the kitchen staff accommodates all of our requests. Although, my biggest complaint was they served a desert instead of an entree for my vegetarian request, but in all the food was more than enough and we all gorged ourselves completely. During the dinner, the chef put on a small show about rock steaming the shrimp. 
Our young 23 year old guide helped us navigate the waters and up to a cave, which we attempted to go through the cave but got stuck due to the weight of our kayaks.  Our kayaks struggled to make through the passageway because of the low tide. My brother got out of the cave and attempted to push the kayak with me in it and cut his food on the rocks and almost lost his flip flop sandal.We had to pull the kayaks through a small cave opening. Once inside we saw corals in a small enclosed bay,  Covered in mussles and covered in corals. There were oysters spitting up into the air. The dark red corals and there were smaller blue and purple ones as well. There were monkies jumping and eating berries off of the trees above the water. We watched them for nearly 10 minutes before the forest became silent and we were set to make our way back out of the cave. It was more difficult on the way out because the water was flowing into the cave against the direction of our boats, so this time I hopped out in wearing my vibram foot watershoes that are so popular nowadays, and I pulled my brother in the kayak through the cave. Everything was going great until I reached a perilous point in the journey where the cave was dark and I was up to my waist in water. The guide was behind me also struggling to exit the cave. At one point I tried to hop back into the kayak out of fear or falling into some dark abyss, and so we started paddling as hard as we could but we were going backwards out back into the bay again. I had to get us through the cave somehow, and my brother in his flip flops wasn't getting out of the kayak again. So I jumped out and pulled us through the cave up to my waist in water, through the dark cave probably filled with bats and snakes or something, and got us out to the other side again.   It's definitely recommended that you wear watershoes or tight fitting sandals n the kayaking tours because if the tide is low it will be difficult to get through the caves. 
That evening, we enjoy another fantastic sangria sunset party, and my brother takes to squid fishing. He manages to catch one, and not only that, but he caught the biggest one of the night, with his only rival being a smaller one caught by a Korean lady. While we were "fishing for squid" one night during our cruise, there was a conspicuous boat trawling around the area where our boat was parked. It smelled like nasty diesel. I had a feeling it was trawling for shrimp, and due to my overeducation at one point it was simply there to eliminate the jellyfish there so the tourists could swim. It makes me sad that so many tourists want to come here and then expect to eat lots of seafoods during their cruise. Being a vegetarian is so hard hanging out with normal westerners. I usually feel like no one understands why anyone would be a vegetarian, and I'm often surprised no one knows about overfishing or the environmental consequences of food choices; what to speak of the health reasons for vegetarianism including eating the antibiotics found in fish from Asia, or other toxins found in bottom feeding fish and shrimps. There were huge fish recalls in the US from imported fish and shrimp from Asia, particularly China due to antibiotics and other toxins found in the foods. Overfishing will kill the oceans as soon as 2050 some people predict. The oceans are fished to probably 50%, and around 90% of the big fish are already gone. Marine conservation should be a huge priority here, but it's not. I was shocked.  I've become so jaded that I've been a vegetarian since I was 12 years old that I often will taste or sample meat to see what is the big deal. I didn't even like half of the seafood I tried on the cruise. It didn't even taste great. Some of the local fishers I saw at the Amazing cave selling shrimps, cuttlefish, etc to the other villagers. They had around 20-30 of each kind of fish or shrimp, which isn't a lot. The huge fishing boats off the shore are no doubt to feed all of Hanoi, which is a large city with a diet mostly of seafoods. Vietnam has very few vegetarians. On the cruise, one of the days they fed me 80% potatoes, French fries, potato curry, sweet potato balls, and then a squash dish. Two out of 3 nights I got served a dessert for an entree because the young 25 year old chef had no idea how to prepare anything vegetarian as a replacement. 
Related items