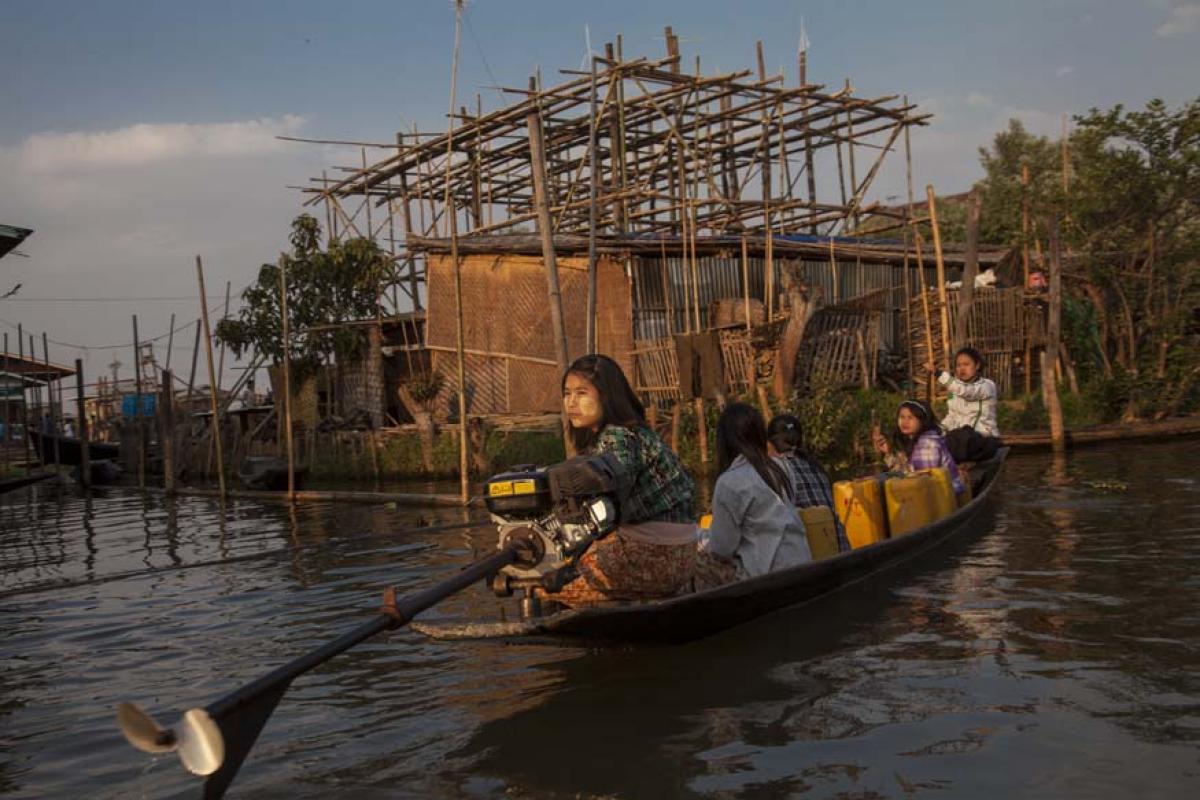 Inle Lake Trekking and Boating on Buddha's Donation Holiday
At a small restaurant after a long day on the lake. The walls are made of rattan and the lamps are handmade paper. Most of the chairs and tables are wood. It's touching that they build their houses and make so many practical things. 
The day on the lake felt like a shopping excursion. First I bought 3 ilk longies. Then we went to the market and I photographed the traditional people. We went to a silversmith who was selling $330 star sapphire earrings.Then we went to a cigar shop, later long necked Thai women, weavers in an umbrella shop. We made it to an impressive pagoda. It was totally dilapidated in parts. Other parts were fully restored. Part of the restoration was still in progress and they were using concrete to do some of the styling features. I had a great day simply taking photos. We ride in a long boat. Most of the other boats were 4 or 5 people, but I had one all to myself. It kind of bobbed up and down in the water. The lake was angelic and blue in the morning sky and the water had the same hue. I'm having a romantic time by yourself. The sunset over the lake was equally as incredible. I went back and had fried rice and vegetable with a strawberry lassi and tea for dinner. I fell asleep in my quiet hotel and woke up around 5am with the monks chanting next door. I booked a trek yesterday that should be a nice Valentines Day treat. We hiked all day long, beginning with a boat ride. At the docks many women were coming home from the monastery with their offering baskets. It's a donation festival to the Buddha. I took many photos of women carrying their offering plates. The monastary was sweet, and I gave offering and respect to the Buddha. I had tea with one female monk and 3 Pa-O women who were eating sticky rice with caukry sugar. We continued on our trek uphill for another 2 hours and arrived at another Pa-O families house. I I took photos of the people and interesting plants. Then we arrived to the tour guides aunts house. We watched the sunset together and then went to the small monastery in the village for the festival. They started 7 fires around the monastery, one for each day of the week. They lit candles around the monastary. The girls were reciting in the temple. 
The next morning we ate a big breakfast and hiked for 5 hours to a village where we had tea with one woman who was given a $10 bill by some travelers. She was really happy and had never had American money before. We saw many villagers, and then reached a cave temple where one monk had stayed there for one year and became an arhat. What a powerful place to do meditation. It was so dark in the cave. I would have love to stay and do retreat there. I think I'll try to find more cave temples for meditation retreat. 
Related items